There's no denying that wooden windows can add a naturally beautiful and heritage charm to homes, which leaves no surprise as to why they are a popular choice for properties with a more traditional style architecture. However, as wood is a natural and cellular material, it is prone to a few problems and requires a fair amount of regular maintenance. Thanks to modern advancements in technology, homeowners can now enjoy all of the aesthetics of a timber appearance coupled with the benefits of contemporary uPVC frames.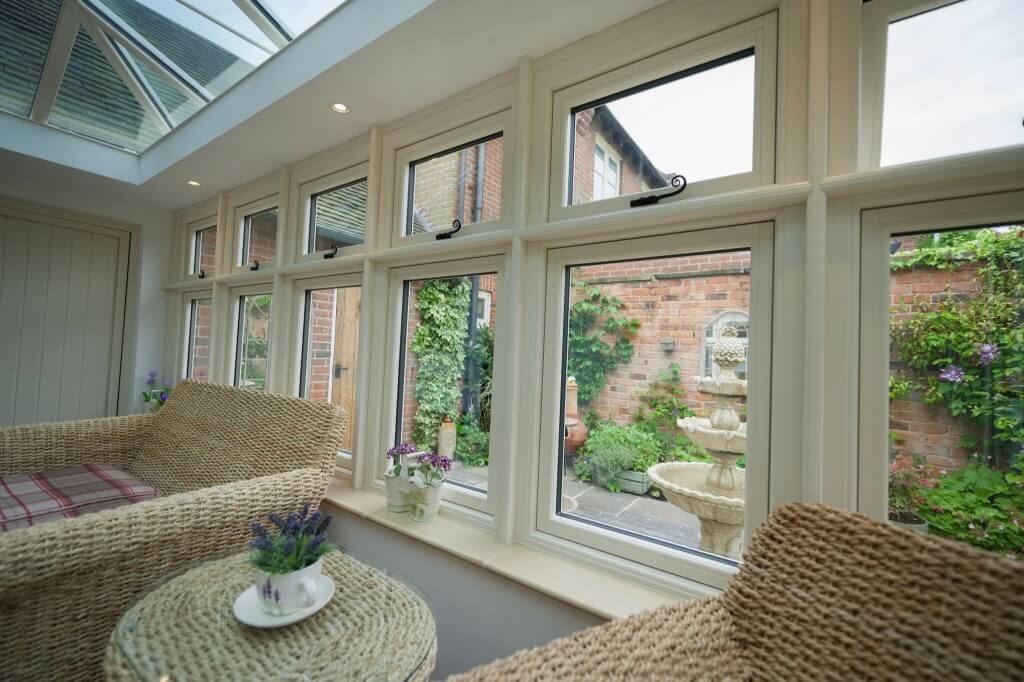 Residence Collection timber effect windows for Nottingham homes
Here at the Nottingham Window Company, we offer the market leading timber alternative Residence Collection. The Residence Collection is one of the most prestigious, best-performing ranges of timber effect uPVC windows available today. We supply two of the most popular options in the Residence Collection; Residence 7 and Residence 9 windows.
What is the difference between Residence 7 and Residence 9 windows?
| | |
| --- | --- |
| Residence 9 (R9) | Residence 7 (R7) |
| More suited to period style properties | More suited to modern architecture |
| R9 frames have 9 heat trapping chambers | R7 frames have 7 heat-trapping chambers |
| R9 frames have a profile that is 100mm wide | R7 frames have a profile that is 75mm wide |
| 23 standard colours | 20 standard colours |
| R9 features a raised weather bar that used to be found on old timber windows. This gives an authentic period appearance. | No weather bar |
| The joints on the R9 are butted together so they resemble old timber windows. | R7 windows are available with a range of joint options (Mitre weld, GRAF weld, diagonal weld) |
Here's our top reasons why you should consider timber alternative windows to transform your Nottingham home:
Timber effect windows are low maintenance
While timber windows may seem appealing, they require a lot of maintenance with regularly staining and protecting the frames. Wooden windows are prone to rotting, weathering and warping. The main reason timber windows begin to warp is due to the moisture that's unevenly absorbed into the grain of the wood. The extra stress induced by this uneven absorption can cause the frame to shrink and expand.
With a wood effect finish, you receive all the beauty of natural wood with none of the maintenance. Timber effect windows will last for years, and the only maintenance you need to carry out is wiping the frames over with a damp cloth once in a while to keep them clean.
Timber alternative windows are budget friendly
It is no secret that real wood windows are the most expensive choice of window material. Timber effect windows made from affordable yet durable uPVC, on the other hand, are an excellent, cost-effective alternative. The innate strength of uPVC also means that the windows are built to last with no expensive repairs or costly maintenance. With timber alternative windows you can enjoy long lasting windows with a beautiful wood style finish.
Timber effect windows are authentic
For a convincing look of timber that is sure to increase your homes kerb appeal, wood effect windows are designed to look and feel like exactly like genuine wood. The foils used on timber alternatives creates an appearance of a unique grain finish. Not only do they have a grain finish, but they are also often well-researched to adhere to the characteristics of the wood type chosen. Our Residence Collection windows are so authentic, in fact, they are often accepted as window replacements in conservation areas.
Residence 9 embraces modern manufacturing and celebrates the techniques of traditional British craftsmanship. The joints are butted together to replicate timber, giving your windows the authentic timber appearance R9 is famous for.
Residence 7 windows use the Timberweld® process which welds the profiles with a timber look to both sides. This method ensures that edges are completely sealed presenting the appearance of a traditional butt joint that customers associate with wooden window frames. A butt joint is a technique in which two pieces of material are joined by simply placing their ends together without any special shaping. Another joinery method for R7 windows is the MechWeld/External Timber Look (ETL) technique that gives a diagonal weld to the internal frame, with a timber look to the external.
Timber alternative windows are available in a range of colours
You choose from a range of wood colours such as classic oak or rich mahogany, and they also come in a variety of designs to suit your style. Not only can you choose the design and colour, but the woodgrain finish provides a convincing natural look.
Timber effect windows are energy efficient
Timber alternative frames are incredibly advanced. With double glazing as standard, with the option to upgrade to triple glazing, our Residence wood effect windows can help you to retain the heat in your home through their innovative multi-chamber design. The retention of heat not only saves you money on heating bills but also lessens your impact on the environment.
The minimum U-value requirement for UK homes, according to Building Regulations, is 1.6 W/M²K. The entire Residence collection can achieve incredible U-values as low as 1.2 W/M²K with standard double glazing, and just 0.8W/M²K with triple glazing. Compared with traditional wooden windows that achieve an average U-value of between 1.2 – 1.4 W/M²K, you could potentially benefit from a more energy efficient home by opting for timber effect uPVC windows.
Timber alternative windows are strong and secure
Our customers like uPVC because it's long lasting, hard-wearing and affordable. The longevity of uPVC is one of its biggest assets. You won't find any rot in the frames, so intruders won't be able to prise the window open, and you don't need to do anything to keep the frames in good shape. The actual frames themselves are extremely solid and very hard to break, so it will be exceptionally difficult for any would-be burglars to break and enter, keeping you safe and giving you peace of mind.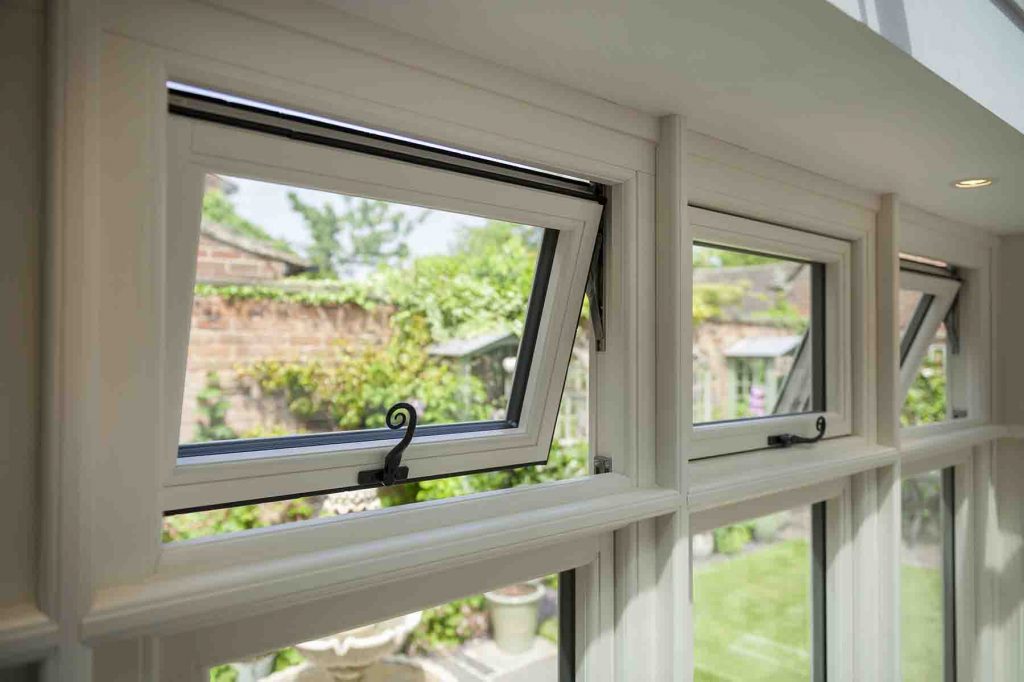 Made-to-measure uPVC timber effect windows in the East Midlands
If you need further inspiration to get your renovation project off the ground, why not book an appointment to visit our extensive home improvement showroom in Nottingham? Creating uplifting spaces for discerning East midlands homeowners, architects, and developers for over 20 years, we look forward to hearing from you soon.
Read our related blogs:
Are UPVC windows & doors sustainable?
What is a flush sash window and is it right for my home?
Our coloured window advice guide – how to choose new coloured windows