With over 100 RAL colours available for windows, it can be difficult to pick a colour that is not only going to aesthetically enhance your home but the surrounding neighbourhood too. It can be hard to imagine what colour will work best but it is definitely not a decision you want to get wrong, after all, you will have to see your windows every day for decades to come!
To guide you through, we have outlined a variety of window colours that suit all sorts of homes. Whether you have a thatched cottage in Derbyshire or a contemporary home in Leicestershire, we have you covered. We have also listed other aspects to consider when replacing your windows to ensure your investment is a sound one!
How will I know what window colour suits my home?
The colour of your windows can completely transform your homes' aesthetic. But what colour windows go with red brick homes? Are coloured uPVC windows more expensive? We are here to answer your questions!
Red brick homes in the East Midlands
You see red brick homes right across the UK mainly fitted with white windows, which is not the only option if you are lucky enough to own one! Rosewood & Golden Oak wood effect uPVC windows also look great on red brick homes. Earthy, wholesome, and warming, wooden textures instil a homely and cosy feel from the outside inwards. Although, if you were looking to achieve a more modern look when replacing your windows, black window frames beautifully complement red brick houses too.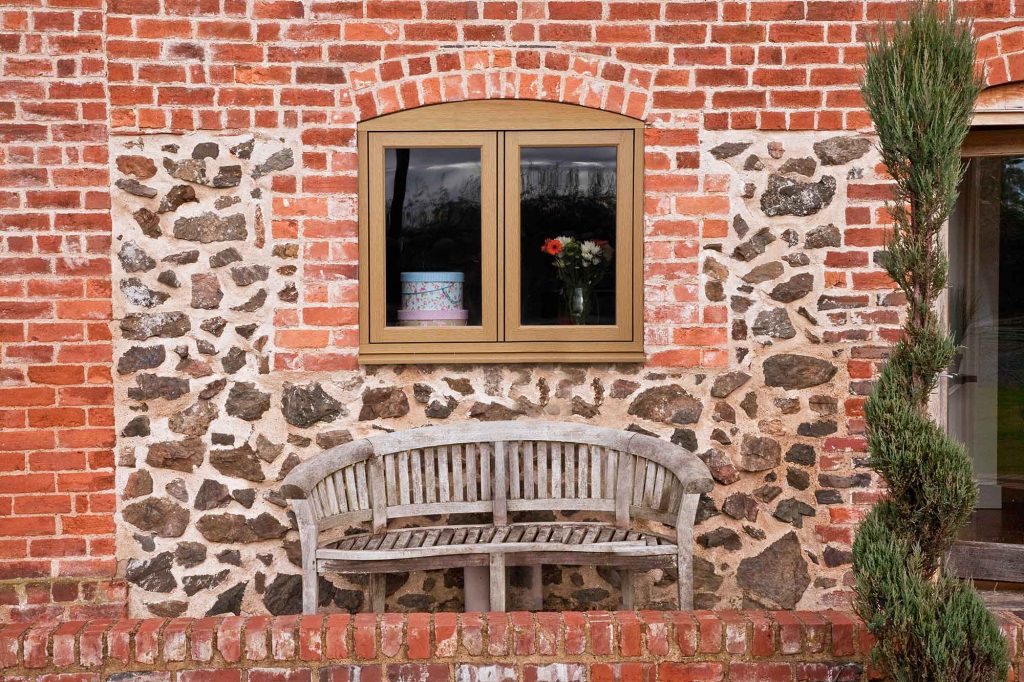 Contemporary homes in the East Midlands
Whether the façade of your home is black, grey, or white, modern architecturally designed homes suit modern colours. Dark tones such as Anthracite Grey and black frames on lighter exteriors create a striking focal point. In the same way, lighter colours such as Agate Grey, white and Signal white create an aesthetically pleasing contrast on darker modern properties. The point here is that you want to create a real feature of your new windows!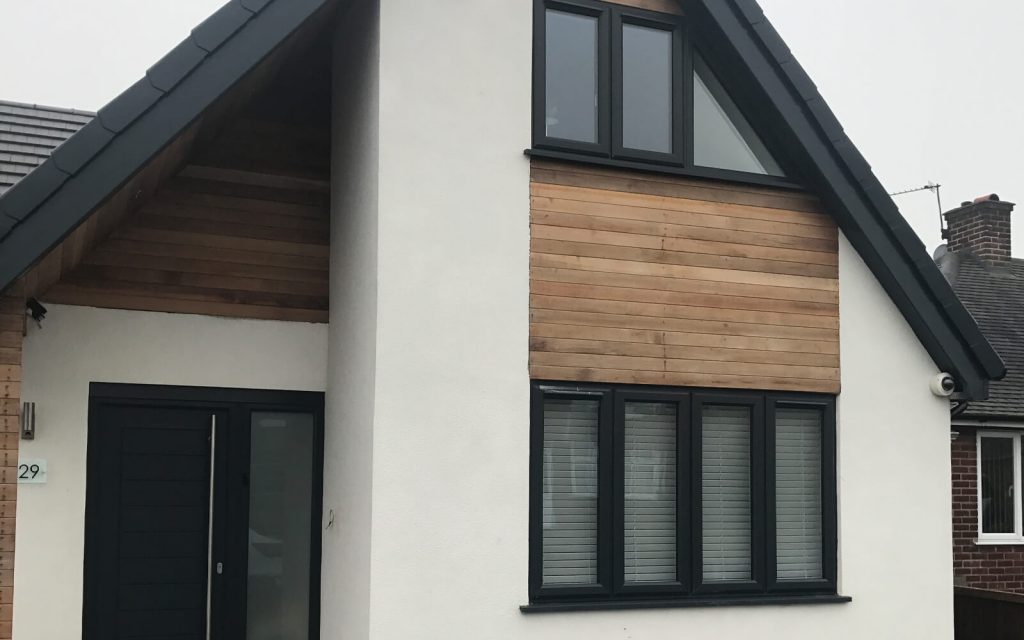 Traditional Homes in the East Midlands
Traditional homes suit more subtle and decorative hues. A particularly popular colour, Chartwell Green is often seen on cottages and stone buildings. The colour creates a beautiful countryside aesthetic but still gives a sense of tradition and character. Cream is also another vintage shade that suits traditional dwellings. Another thing to consider is decorative glazing. Georgian and Victorian homes traditionally have decorative features on the fascia, so why not consider adding Georgian bars or a diamond lead design for a real heritage-inspired flourish?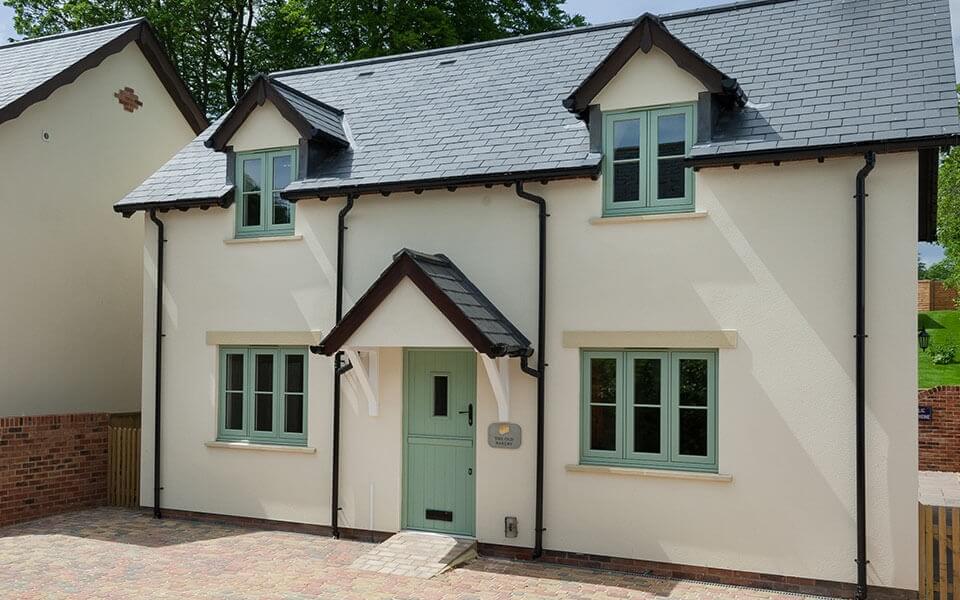 Are coloured uPVC windows more expensive?
The greatest advantage of uPVC windows is their ability to effortlessly mimic authentic timber windows, making them perfect for classically styled properties. Gone are the days uPVC is seen as the 'cheap, white' material. Modern uPVC can be used to create sliding sash, flush sash, casement, and tilt & turn windows, all of which will not compromise quality or performance. When it comes to adding colour and wooden foil finishes to uPVC windows, it will typically cost 15% to 20% more than the exact same window in white.
Can windows be different colours inside and out?
The term dual colour windows is used to describe windows that have a different colour for the internal and external parts of the frame. Many homeowners choose them because they offer additional customisation by allowing them to create a different look for the inside and outside of their home.
Can you change the colour of uPVC windows?
The simple answer is yes, you can paint UPVC windows and doors. It can be a quick way of refreshing your home's charm! However, it is not an easy task. Therefore, we suggest you do not paint new uPVC windows as, during the manufacturing process, an additional coating of plastic is added to the windows to make them look shiny. This is not a surface you can paint on. So, uPVC windows that have been newly installed should be left for a minimum of 12 months before endeavouring to paint over! We also suggest that you do not paint them a different colour, just maintenance touch ups.
Do coloured upvc windows fade?
Thanks to advances in manufacturing techniques, uPVC windows are built solid, which means the colour permeates through the uPVC. The solid colour makes the windows highly resilient to fading, so your windows will look as good as new for decades to come! However, the average life span of uPVC windows is 30 years, and around this time fading may occur.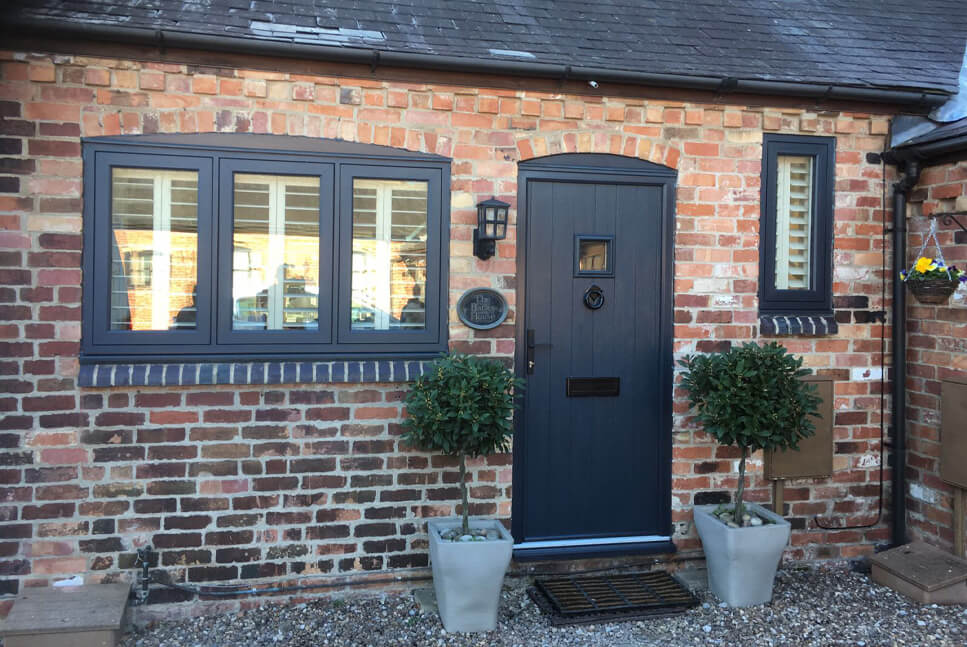 Other factors to consider when replacing your windows:
Quality products & installation
A factor some homeowners, unfortunately, neglect while searching for window replacements. Quality products and installation can make all the difference to the finished look of your windows and its performance! If low-quality windows are installed poorly, then you may end up replacing your windows again sooner than you would want to.
Professional, accredited and established as Nottingham, Leicester, and Derby's most reliable double-glazing specialists, we are quality assured by CERTASS & provides QANW Insurance Backed Warranties as standard.
Windows need to perform vital functions that a 21st century home needs, including security, thermal, and noise insulation. Our windows are guaranteed to deliver superior thermal & acoustic performance wherever they are installed. Thanks to the multi-chambered design on our innovative uPVC window systems, they can achieve U-values as low as 0.8W/m2.K with ultra-efficient 44mm triple glazing and conform to PAS 23 & 24 security specifications & Document Q performance benchmarks as standard. Secured with internal beading & multi-point locking, our windows will effectively keep burglars out!
Both our uPVC and aluminium windows perform to the highest standard and are extremely versatile when it comes to colours and finishes. However, they have slightly different aesthetics. Aluminium windows have slimmer frames and are ideal for those who live along the East Midlands coastline, as aluminium is resistant to salt corrosion. uPVC windows complement a variety of modern & traditional stylings, and our R7 & R9 windows are the perfect solution for those who reside in conservation areas. With 5 chic window styles to choose from and an extensive range of hardware, we offer modern inline locking handles right through to heritage-inspired handles, including the sought-after Monkey Tail handle.
Tailored windows for homes' in Nottingham, Leicester, and Derby
For more window inspiration, browse through our inspiring product gallery or contact us today and one of our glazing experts can guide you through all our high-performance aluminium and uPVC window choices!
Related topic:
What are the main differences between uPVC & aluminium windows?
Will grey windows go out of fashion?