Flush sash windows have been a popular window design since the 18th Century, though despite the design being over 200 years old, it is commonly used for architecturally modern homes due to the minimalistic aesthetic. In addition, advancements in materials and construction methods mean flush sash windows can now be created in an array of colours, including contemporary shades like elegant black and chic Anthracite Grey. We are extremely proud to supply and install Residence Collection flush sash double glazed windows, including both the R7 and R9 profiles. But you may be wondering what defines a flush sash window and are they the right window style for you?… We have covered everything you need to know about flush sash windows below!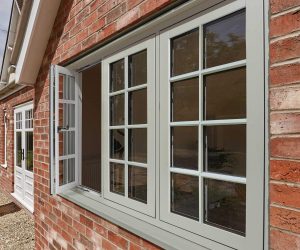 What is a flush sash window?
Elegant, sleek, and sophisticated, flush sash windows have a similar appearance to a casement window, however, unlike any other window design, flush sash windows sit flush into the window frame, giving the exterior a sought-after minimalistic appearance.
What are the benefits of flush sash windows?
Incredible thermal properties
Residence 7 windows feature a unique 7 chamber structure that's 75mm wide and Residence 9 windows include a 9 chamber structure that's 100mm wide. Certain to deliver superior thermal and acoustic performance, the multiple chambers makes it tougher for chilly air to seep through into your home and the precious warmth to escape. As the air has multiple layers to get through, it will keep your home warmer for longer. Both combined with premier glazing from industry leaders Planitherm, R9 & R7 windows can attain U-values as low as 0.8W/m2.K with 44mm triple glazing.
Superior security features
Both flush sash window profiles conform to PAS 23 & 24 security requirements and Document Q performance standards (Building Regulations). Installed with sleek internal beading, which securely holds the glazing in place and a robust multi-point locking system, R7 & R9 windows effectively keep the precious warmth in and unwanted guests out. You also have complete peace of mind, thanks to both profiles offering a convenient French window fire escape option!
Perfect for conservation areas
R9 windows have been designed to replicate the aesthetics of traditional timber windows, and we're sure you'll agree they really do look as authentic as the real thing! Created to the exact requirements of Article 4 Conservation Area guidelines for windows, uPVC Residence 9 windows integrate all the 21st century benefits your home needs to be a cosy and pleasant environment all year round. They ensure your home is extremely thermally efficient, incredibly secure, and adds a stunning feature to your facade.
Stylish hardware & decorative options
A variety of authentic hinges, handles & stays are available, including charming key locking Monkey Tail handles or traditional Pear Drop handles. Whether you're replacing like-for-like or wish to combine a classic feature with a more modern architectural style, we're confident we have a style to suit your unique taste. You can also integrate embellished features such as Georgian Bars or decorative glazing to give your windows extra classical character.
What type of homes do flush sash windows suit?
The beauty of flush sash windows is that they are extremely versatile and can be designed to complement every façade imaginable. Our slender flush sash windows can be fully customised with an immense range of anti-fade finishes and stylish bespoke accessories. Also, with a range of RAL colours including popular shades like tranquil Chartwell Green, vintage cream, and contemporary hues, such as Dark blue and Anthracite Grey, you can design a window that will perfectly harmonise with your home.

Environmentally friendly flush sash windows for homes in Nottinghamshire
The perfect window replacement for classic and contemporary styled homes, you can rest easy knowing that we only ever use industry-leading products that maintain strict environmentally friendly manufacturing processes. If you are searching for beautiful flush sash window replacements, and an expert team to install them, then get in touch today and one of our glazing professionals will be in touch to discuss your project!