We are often asked what the main differences are between uPVC windows and aluminium windows. To help you decide which window material is right for you, let us dive into an overview of each before exploring the finer details.
uPVC vs aluminium windows
uPVC windows
Aluminium windows
Styles available
Casement, flush sash, sliding sash, tilt & turn, R9 and R7
Casement and tilt & turn
Width of profile
70 mm – 137 mm
58 mm – 70 mm
Energy efficiency

5 – 9 chambers
U-values as low as 0.8W/m2.K with triple glazing

Thermal break technology
U-values as low as 0.8W/m2.K with triple glazing

Security
PAS 24 & Document Q compliant
PAS 24 & Document Q compliant
Colour options
100+ RAL colours, 23 heritage colourways (Residence Collection), dual colour & woodgrain effects
100+ RAL colours, powder coated, anodized & marine grade finishes, dual colour & woodgrain effects
Glazing options
Double or triple glazing
Double or triple glazing
Maintenance
Low
Low
Lifespan
25 – 30 years
45 years +
Suitability
Cost effective, versatile and modern
Ultra-slim, high performance frames sure to add value

Aluminium windows are stronger & slimmer than uPVC windows
Aluminium windows provide an unparalleled lightweight strength that's around 3½ times stronger than PVC. This means aluminium windows can accommodate larger expanses of glass and slimmer frames, making them ideal for minimalist East Midlands development projects that require the fashionable 'more glass, less frame' look. For example, our aluminium frame widths range between 58 mm and 70 mm wide, whereas our uPVC windows are available with 70 mm to 137 mm wide frames. Although that's not to say uPVC windows aren't strong (they are!), aluminium just offers that little bit more.
Aluminium windows last longer than uPVC windows
The average lifespan of quality uPVC windows is 25-30 years, which is more than enough for most households. But if you're looking for a longer-lasting window material, without the maintenance issues that timber windows come with, aluminium windows are designed to last for at least 45 years maintenance-free. It's important to note that uPVC windows are very durable and will not fade, crack, rot, or peel. However, aluminium window frames are corrosion and rust-resistant and therefore do not degrade in the same way that uPVC can over time.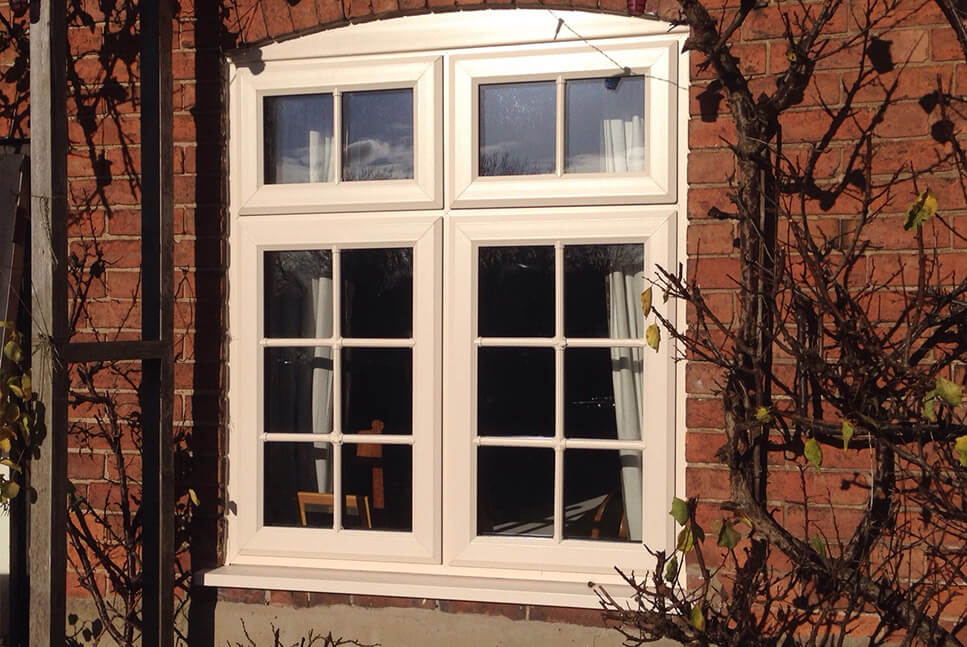 uPVC windows provide more style choices
uPVC offers a wider selection of window styles. Enhancing both traditional and more modern developments with ease, we install lipped uPVC casement windows, flat uPVC flush sash windows, charismatic uPVC sliding sash windows, space-saving uPVC tilt & turn windows, 19th Century inspired timber replica R9 windows and flush finish timber replica R7 windows. Our high-tech aluminium casement windows and aluminium tilt & turn windows are sure to meet the most discerning, minimalist tastes and interiors.
uPVC windows are often a more affordable prospect
uPVC windows have lower material and manufacturing costs, making them a more economical option for low and medium-income households in Nottingham, Leicester and Derby. Aluminium windows tend to be favoured in more high-end home improvement projects, although it's interesting to note that a broader range of households is opting for aluminium window replacements as a worthwhile, value-adding investment.
Double glazed uPVC windows offer superior thermal & acoustic performance
Generally, uPVC windows offer slightly better thermal and acoustic insulation thanks to their innovative multi-chambered profiles designed to trap heat inside for longer. However, modern aluminium windows that incorporate innovative thermal break technology (like ours!) can outperform uPVC windows, especially when installed with tough triple glazing.
Made-to-measure uPVC & aluminium windows in the East Midlands
If you need further inspiration to get your renovation project off the ground, why not book an appointment to visit our extensive home improvement showroom in Nottingham? Creating uplifting spaces for discerning East midlands homeowners, architects and developers for over 20 years, we look forward to hearing from you soon.
Read our related blogs:
Are UPVC windows & doors sustainable?
What is a flush sash window and is it right for my home?
Our coloured window advice guide – how to choose new coloured windows