For those who live in a 1970s property, you might have considered upgrading your home to modernise its aesthetic and make it more energy efficient. With winter just around the corner, and the recent news of energy prices being hiked, there's never been a better time to improve your home. It can feel like a daunting project, and you might be unsure of the most suitable solution, so we thought we'd offer our expert advice and tips. Here's how you can update your 1970s home to improve its appearance and make it far more energy efficient.
Upgrade to timber effect uPVC windows
If you're looking to steer away from the 1970s aesthetic, and you're looking for something low maintenance, beautiful in design and energy efficient, then timber effect uPVC windows will suit you.
As wood effect windows are built from uPVC, which is a fantastic and affordable insulator of heat, they're perfect for turning your home into a more comfortable and warmer living space. By retaining more heat, your home will become more energy-efficient, meaning it should cost you less to heat.
Here at The Nottingham Window Company, we offer timber effect windows from the Residence Collection. This uPVC collection authentically captures the beauty of timber with woodgrain effects whilst encompassing all of the modern benefits of contemporary and energy efficient uPVC.
The Residence 7 (R7) window is particularly popular with customers in the Nottingham, Leicester, and Derby communities looking to update their 1970s homes. The R7 profile is one of our best sellers and is unmatched in both quality & performance. Featuring an innovative 7 chambered structure and sleek 75mm wide frames, our R7 windows are A-rated as standard, can achieve A++ energy ratings with ease, and can be double or triple glazed. Like our aluminium frames, the R7 timber effect profile can achieve U-values as low as 0.8W/m2.K with 44mm triple glazing.
Our timber effect windows are available in the following styles:
We also install the stunning Residence 9 collection, perfectly suited to more heritage and period style homes. Discover the difference between R7 and R9 profiles here.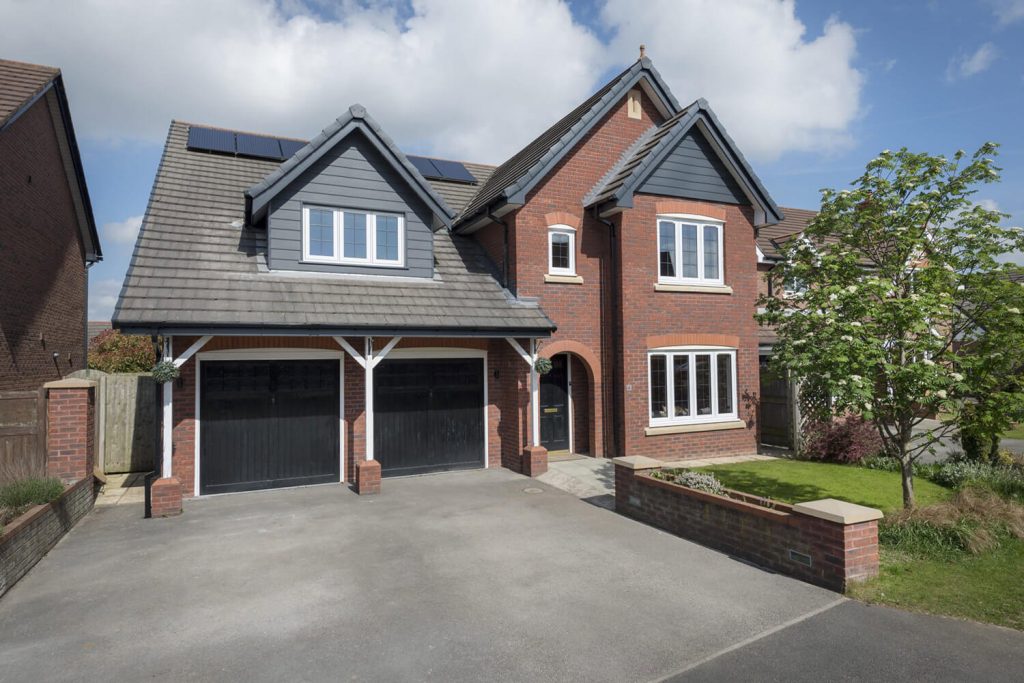 Upgrade to new aluminium windows
In the 1970s the majority of residential windows were made from aluminium. Whilst their frames were strong and slender, they were not fitted with the thermal breaks that they are today. Thermal break technology creates an effective barrier between cold air outside & warm air inside, making modern aluminium windows some of the most thermally efficient on the market. These windows were also most likely single glazed because double glazing did not become popular until the 1980s. Therefore, their thermal performance is extremely poor in comparison to today's aluminium windows.
Durable and robust, the modern aluminium windows of today have a life expectancy of around 45 years. They can withstand extreme weather conditions and are rot resistant too, requiring little to no maintenance. You will only need to give them a wipe down every once in a while with a damp cloth, and perhaps oil the hinges.
Our modern aluminium frame widths range between 58mm & 70mm, minimising sightlines & maximising far-reaching views with ease. This means you can maintain your home's 1970s style aesthetic yet enjoy the modern benefits of energy efficient technology. Combined with premier glazing from industry leaders Planitherm, our aluminium windows are guaranteed to deliver superior thermal & acoustic performance wherever they're installed – achieving U-values as low as just 0.8W/m2.K when installed with 44mm triple glazing.
Our aluminium windows are available in the following styles: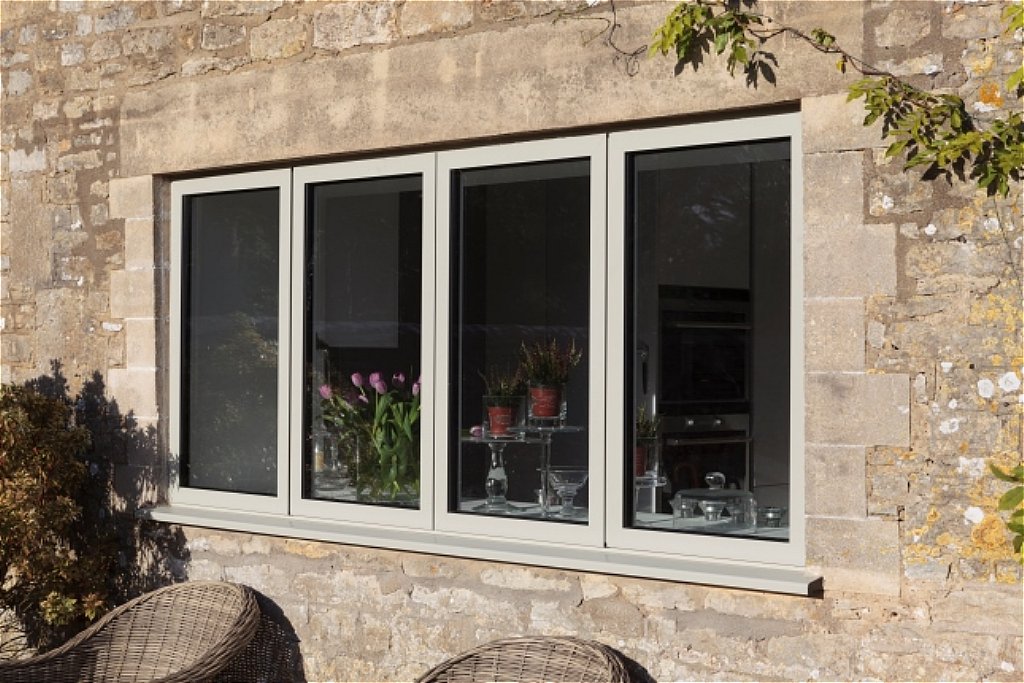 Invest in a composite door to update your 1970s home
A lot of 1970s front doors were made from timber, and in the late 70s-80s we saw the introduction of the first uPVC doors. If you want to rejuvenate your 1970s front door with something far more secure, stylish and energy efficient, then consider updating to a composite door. Fusing a unique combination of super-strong materials together, composite doors tick all the boxes when it comes to strength, thermal efficiency and memorable first impressions. Composite doors feature an insulating and secure foam core enclosed by a durable and low maintenance Glass Reinforced Plastic (GRP) skin.
Offering 6 design ranges, 50+ colour and glass options, and over 100 hardware options, our composite doors provide security and durability that you can trust. Overall, a replacement composite door could keep your family safer, lower your energy bills, and give your home some serious kerb appeal.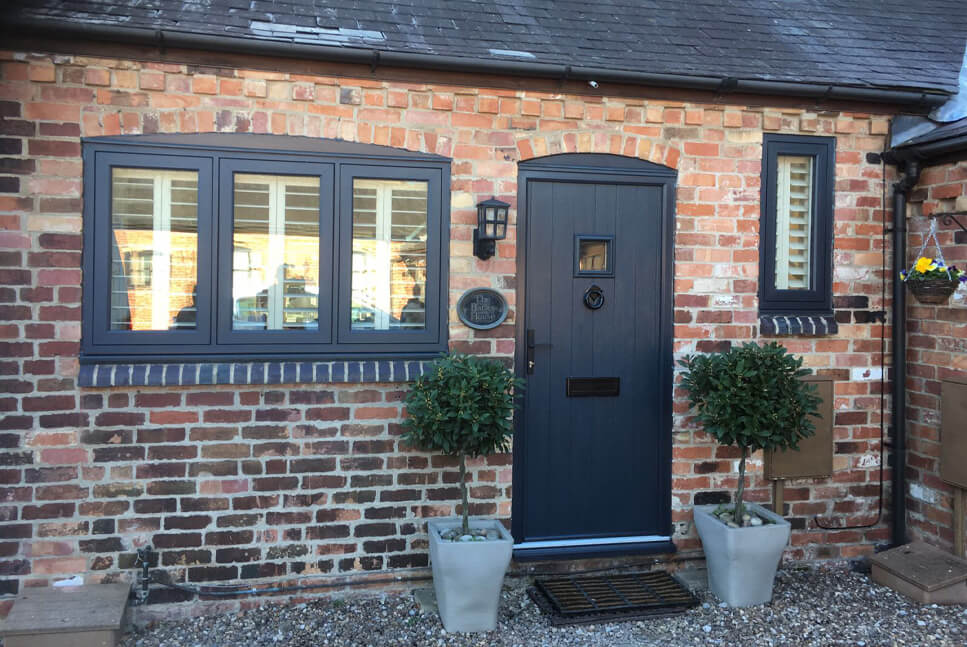 Replace your roofline
The roofline is an often overlooked part of the home, but it still needs regular maintenance and care to stop it from becoming worn and faulty. An outdated and damaged roofline puts your home at risk of being exposed to the elements, potentially leading to structural problems that are expensive to repair. If your 1970s home still has the same roofline that it was built with, it may be worth checking to see if its time for a replacement.
If you recognise any of these tell-tale signs, it may be time to replace your roofline:
Rotten timber fascias or bargeboards
Evidence of pest infestation e.g. rustling noises in the roof space
Cracked mortar on gable ends (the triangular upper part)
Leaking gutters
Peeling paint
Unsightly wear & tear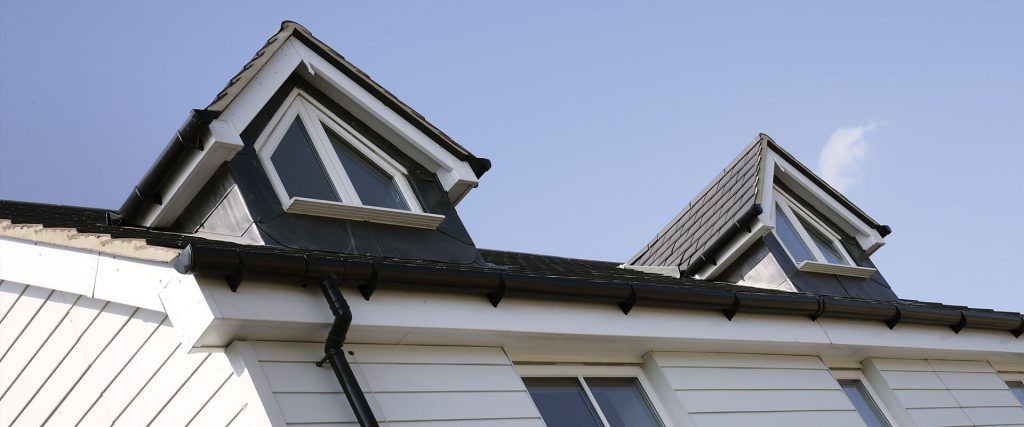 Update your 1970s home with improvements from The Nottingham Window Company
If you are searching for beautiful upgrades for your East Midlands 1970s home, and an expert team to install them, then get in touch today and one of our glazing professionals will be in touch to discuss your project!
Related Reads:
Are UPVC windows & doors sustainable?
What is a flush sash window and is it right for my home?
What are the main differences between uPVC & aluminium windows?