In previous years it was often difficult for owners of period properties to replace their windows with secure, long-lasting, and energy efficient options without spoiling the appearance of their home. Fortunately, those days are long behind us, and we now offer a wide range of beautiful window styles to suit properties of every age, design, and character.
For homeowners throughout Nottingham and the East Midlands, we have a variety of stunning window replacements available for period homes, but installing windows that match your home's architectural design can be difficult. We have put together this guide to help you choose the best windows for your period home.
Choosing the right style of windows for your period home
When it comes to picking a window style for your period property, there are a few options that will really help to reflect the era of your home. Sliding sash windows are often a popular choice with homeowners looking to enhance their period home. The vertical sliding design rose to popularity from the 17th– 19th century and so the sliding sash windows of today are a definite nod to our Georgian and Victorian heritage.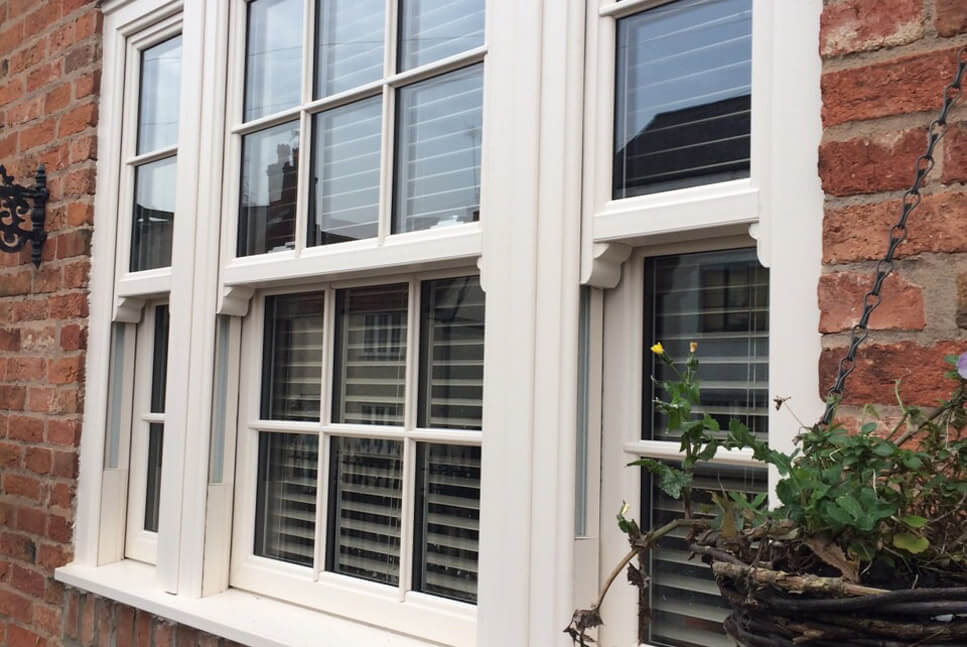 Features of sliding sash windows
Sliding sash windows, also known as vertical sliding or box sash windows, are designed to replicate traditional Georgian or Victorian timber windows that slide open vertically as opposed to casement-style windows that open outwards. Balancers counter the weight of the sashes to provide easy operation and to allow the sashes to remain open in any position. On a single hung window, the top sash is fixed, and the bottom sash operates vertically.
Range of decorative features, including sash horns, deep bottom rails, and glazing bars
Slim and elegant sightlines – no bulky features
Highly secure, conforming to PAS 24 security specifications & Document Q performance benchmarks as standard
Energy-efficient – low U-values, which means greater insulation. Our sliding sash windows achieve U-values as low as 0.8W/m2K with 44mm triple glazing.
Choice of handles to complement the window and your home, including traditional monkey tail style handles in a variety of colours
Available in innovative uPVC, including timber effect uPVC
Fitted by a team of experts, with years of experience
Consider heritage style Residence windows
The Residence Collection is one of the most prestigious and best-performing ranges of timber effect uPVC windows available to glazing installers today. Two of the most popular options in the Residence Collection are Residence 7 (R7) windows and Residence 9 (R9) windows, but it can be difficult to know which option is best suited to your period home, so we've broken down the main differences below.
The number of chambers within the uPVC frame
R7 Residence windows have 7 heat-trapping chambers and R9 windows have 9. However, both take 28mm double or 44m triple glazing and achieve excellent energy ratings of A+.
Profile width
Residence 9 has a profile that is 100mm wide whilst the Residence 7 system has a 75mm wide profile.
Corner joints
The joints on the Residence 9 are traditionally butted together so they resemble old timber windows. However, the Residence 7 collection is available with a range of joint options:
The mitre weld option fuses the joints diagonally, resembling the joints that are found on more modern windows
Graf weld joints give them a diagonal appearance, but one that is seamless
For diagonal weld joints on the internal profile and timber joints on the exterior, a Mechanical Weld/External Timber Look option is available too.
Number of colour options
Homeowners can choose from 20 standard colours for R7 windows and 23 for R9. However, both are available with a dual colour option. A dual colour option describes when you choose different colours for the internal and external frame of the window. This ensures your new windows complement your home's interior decor and outside character.
Weatherbar
Residence 9 features a raised, horizontal-running moulding that used to be found on old timber windows. Its purpose is to reinforce the mullion and shed dripping water. This gives them increasing authenticity in terms of the way they look and how they function.
Enjoy period aesthetics with modern benefits with our heritage windows
Just because you are looking at having new windows installed in your period property, does not mean that performance needs to be compromised. Manufacturing processes, materials, and designs allow our team to install beautiful windows made to replicate your property's existing style but without compromise on performance. So, you can enjoy windows that fit seamlessly with the heritage of your home whilst also taking advantage of the energy efficiency, security, noise reduction, and durability offered by double and triple glazing.
Aside from sliding sash, R7, and R9 windows, we also offer a variety of other replacement windows; from casement windows, to tilt and turn windows – we are confident that we have a window style to suit your home. Contact us or call our accomplished team of experts today on 0115 866 00 66.
Read our related blogs:
6 ways timber alternative windows are transforming homes in Nottingham
What are the benefits of Residence 9?