With the rise in popularity of grey windows over the past few years, we often get asked 'are grey windows just a fad?'
Here at The Nottingham Window Company, we think not. We believe grey might even be the new white. Despite the surge in demand for traditional profiles, such as flush sash and sliding sash windows, grey is still a sought-after colour for East Midlands homeowners with traditional or modern properties.
With a neutral and alluring tone, grey evokes the feeling of power & durability. In her book 'Your Every Mood: Discover Your True Decorating Colours', Leatrice Eiseman notes "The greys represent solid strength and longevity, an association stemming from the colour of granite and gravel, stone, slate, and rock; of ancient monuments, pillars, and temples that have withstood the ravages of time and technology."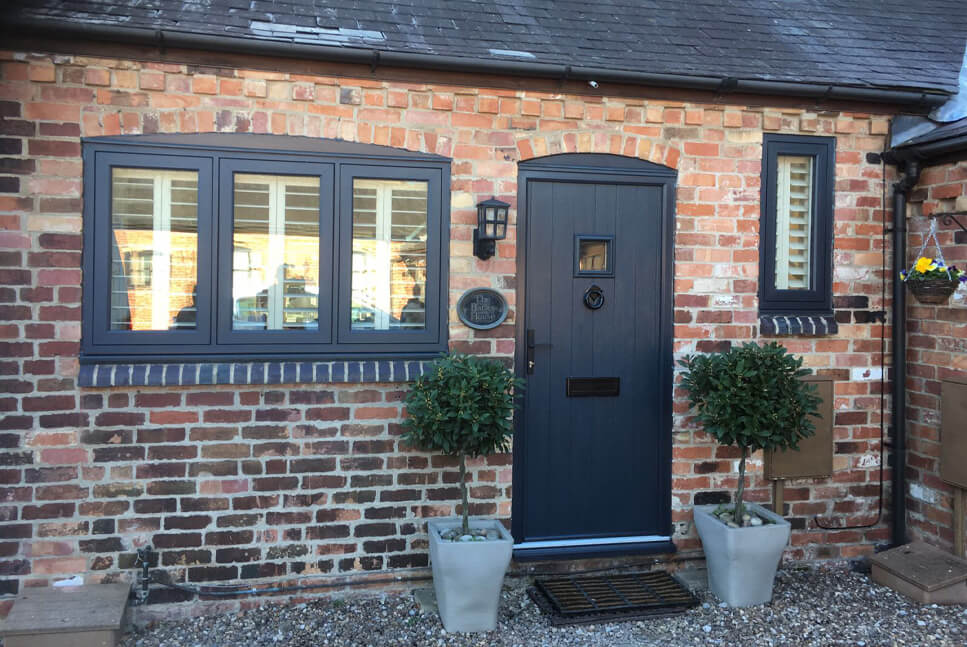 Why are grey windows so popular?
Grey windows (and doors) are so popular due to how adaptable all shades of grey are, from Anthracite Grey, pebble grey, or slate grey, all grey tones suit contemporary and traditional properties. Grey can help homeowners with period properties renovate the character and charm of the façade, whilst giving it a subtle modern twist that refuses to overpower the beautiful architectural detail. In contrast, grey also creates a striking focal point for modern properties with light exteriors.
What is the most popular shade of grey for windows?
With shades of grey dominating the home improvement market, we have seen a variety of grey tones used on chamfered and sculptured windows, where a Rosewood or Irish Oak finish would have been the traditional choice. However, with Anthracite Grey taking the world of entrance and patio doors by storm, it only seems natural that the Anthracite Grey trend would follow.
Another reason why Anthracite Grey (also known as RAL 7016) is so popular is due to the variety of renovation products that are available in this enviable shade. You can easily mix and match your new home improvements to create a cohesive and satisfying aesthetic for your home and garden!

Will grey UPVC windows fade?
Older and outdated coloured UPVC windows (those that were manufactured more than 10 – 15 years ago) were usually manufactured in white UPVC with a few millimetres of coloured plastic bonded to the surface. It is these profiles that fade fast because the top layer of coloured plastic is susceptible to damage when exposed to UV rays.
Newer coloured UPVC windows are manufactured solid, which means the colour permeates through the UPVC. The solid colour is what makes it highly resistant to fading. When you invest in new coloured windows from us, you can rest assured the colour will look as good as the day it was fitted for years to come.
Alluring grey windows for your East Midlands home
As Eiseman said, grey has stood the test of time and technology, making it an enduring, timeless colour choice. We have an array of grey RAL colours to choose from, including Anthracite Grey, dusty grey, and blue-grey. However, we also have a range of classical tones available, such as Chartwell Green & vintage cream. To help you decide on what colour you should have your windows, here are 5 colour window ideas to inspire you!
We understand how windows affect the aesthetic of your home, that's why all our windows are of the highest quality, fitted to perfection, and are designed to beautifully harmonise with your homes' unique character. Our double-glazing experts can advise on the perfect solution for you and guide you through our efficient window replacement process. Contact us today or call us on 0115 866 00 66 to find out more.
Read next:
7 colour front door ideas to makeover your home's entrance
Our coloured window advice guide – how to choose new coloured windows