Replacing patio doors has become a reliable way to capitalise on essential space, light, and ventilation, whilst simultaneously creating stunning rooms with a view. Seamlessly uniting indoor and outdoor spaces, slender aluminium sliding patio doors are piquing the interest of households throughout Nottingham and the East Midlands who seek fashionable contemporary sightlines and large expanses of glass that evoke memories of renovation programs such as 'Grand Designs' and the like.
So, if you're wondering how to breathe new life into tired French doors or broken bi-fold doors, this guide will point you in the right direction on what to look for when buying new sliding patio doors.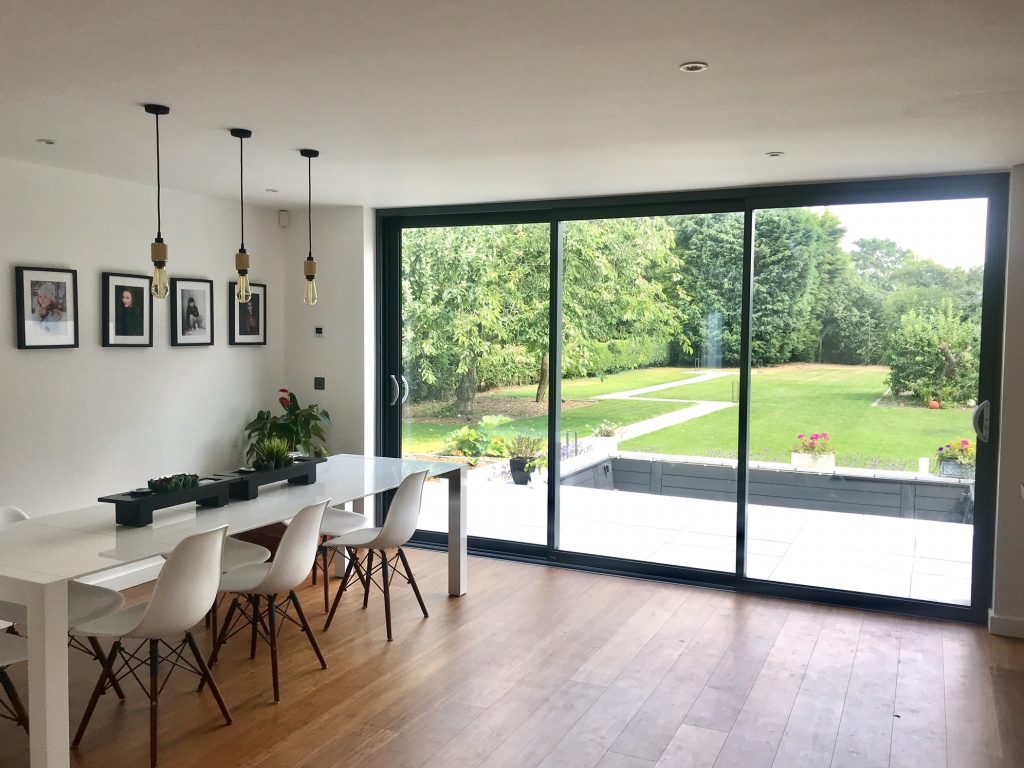 Other than cost, what should I look for in a patio door?
☐ Are sliding patio doors right for your home or extension?
The first thing you need to do is make sure sliding patio doors are the best fit for the space and property style. Do any of these apply to your home improvement needs?
Typically, sliding patio doors are the preferred option for Nottinghamshire homes in short supply of space and natural light. Perfect for modern balconies and patio areas, our space-saving aluminium sliders are available with 2, 3 or 4 glazed panels, a range of sliding formats and a choice of frame sizes.
French doors are a firm favourite in East Midlands homes that require a touch of timeless elegance fused with present-day performance. Projecting outwards from hinged double doors, French doors are more suited to smaller structural openings. They can also be designed with an element of privacy in mind, available fully glazed or part-glazed depending on the project.
Bifold doors open via a unique concertina fold that allows them to stack neatly to one side, opening up the space to blur the lines between the indoors and the outdoors. Available with 2-8 glazed panels and a range of diverse opening configurations, beautiful bifold doors complement larger developments best.
Furthermore, sliding patio doors tend to be the door of choice for young families, as they're deemed much safer than bifold doors or French doors – simply because of the chance of curious children or vulnerable adults injuring themselves, e.g. getting their fingers stuck in the hinges is considerably reduced with modern sliding patio doors.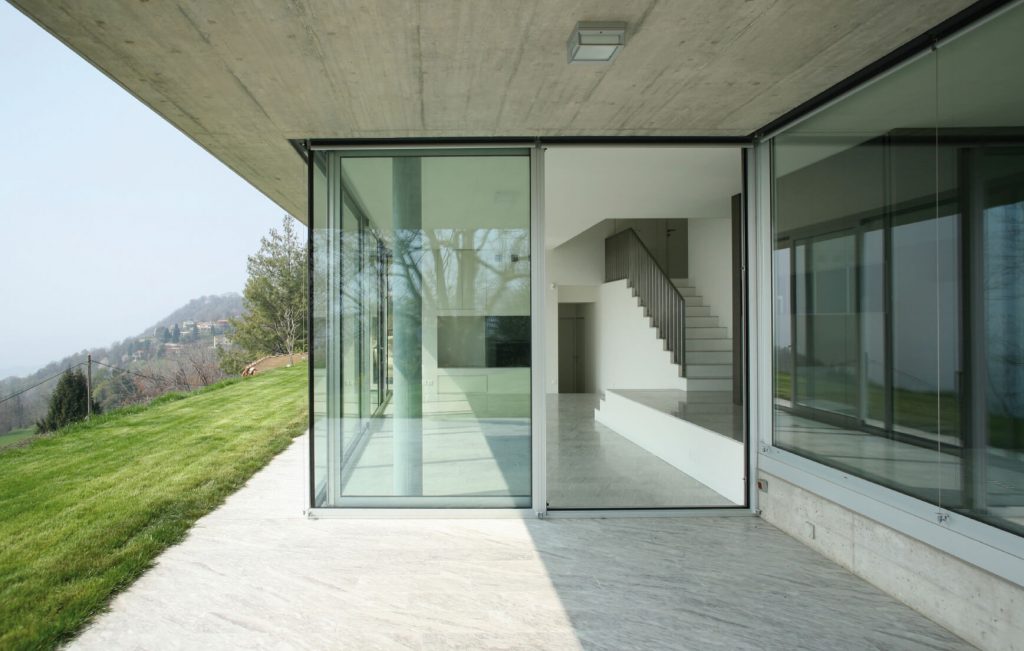 ☐ Custom-made patio door design possibilities
From 2 panel systems suited to bijou apartments right through to stunning 'wall of glass' effects made-to-measure for larger refurbishment projects, researching the latest patio door designs is essential as the days of the classic 2-panel patio door system being the only option are long gone. For example, contemporary 'cornerless' grey patio doors are a particularly fashionable statement within households that wish to maximise the space with swathes of natural light whilst refusing to compromise on security, insulation, and far-reaching views.
Throwback to one of our favourite installations, an aluminium corner less patio door in anthracite grey. Installed in West Bridgford, Nottingham. #Nottingham #aluminium #modern #house #renovations #home #westbridgford #7016 #anthracite #grey pic.twitter.com/c1xE8OWgqV

— Nottingham Window Co (@nott_win) January 8, 2021
Displayed at our extensive window & door showroom in Nottingham, our enviable aluminium sliders can be fully customised with a limitless spectrum of RAL colours, life-like woodgrain effects, strengthening anodised finishes, diverse dual-colours, stylish bespoke accessories, and custom-made arrangements able to achieve awe-inspiring patio door installations up to 2500 mm high.
☐ Environmentally friendly patio door frame materials
With sliding patio doors, you have a choice of timber, uPVC, or aluminium frames. Aluminium sliding patio doors have become a firm favourite throughout Nottingham and right across the Midlands, thanks to their incredible strength, endurance, and eco-friendly qualities. Often approved for installation in restrictive listed buildings and conservation areas, aluminium sliders are not only structurally stronger than timber patio doors, but they're also much more cost-effective and low maintenance than their timber counterparts.
Able to achieve the same look as timber through specialist powder coating techniques, aluminium sliders are also much more environmentally friendly than timber ones due to the amount of energy required to cut, transport, and manufacture them. Infinitely recyclable with no loss to performance, aluminium takes up to 95% less energy to recycle it than it does to produce it.
☐ Energy efficiency
When it comes to thermal efficiency, replacement doors (including patio doors) must meet the minimum energy efficiency standards to comply with Building Regulations. This is measured by the 'U-value', which shows you how easily heat can pass through the door material. Low U-values indicate better insulation. The efficiency of a new patio door can also be gauged by its multi-coloured rating label, similar to those found on household appliances. Rated from A+ to E, to comply with Building Regs* new doors must offer a U-value of at least 1.8 W/m2.K or a Door Energy Rating (DER) of E or less.
Modern aluminium sliding patio doors (like ours!) are a favourable energy efficient patio door option as they incorporate the latest thermal break technology. Exclusive to aluminium sliders, thermally broken sliding patio doors provide an effective barrier between cold air outside and warm air inside. Delivering superior thermal and acoustic performance no matter where they're installed, our sophisticated sliding patio doors can achieve impressive U-values as low as 0.8W/m2.K with 44mm triple glazing – meeting and exceeding the minimum door efficiency standards, making them perfect for low energy homes.
*correct at time of publishing; April 2021.
☐ Patio door security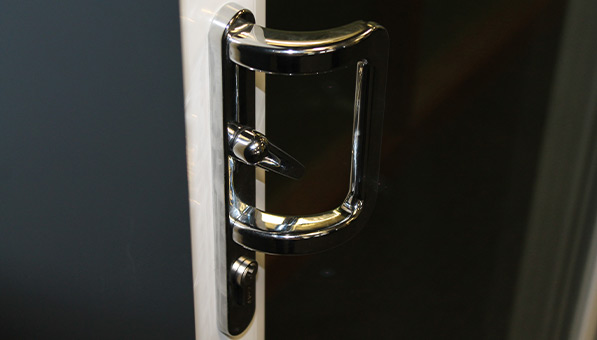 In the past, sliding doors weren't considered a very secure patio door choice due to the fact they used latches (not locks) and could easily be lifted off their tracks by burglars. However, you'll be pleased to learn that over the years sliding door security and patio door locks have gone from strength to strength. That said, some patio door systems are more secure than others. So, be sure to look out for the following sliding door security features (which all our sliding glass doors can deliver):
PAS 24 certification
Document Q performance
Multi-point locking as standard (at least 3 locking points)
Internally beaded glazing
Double glazing/triple glazing/privacy glazing options
Inline sliding or lift & slide options (lift & slide allows for secure tilt & turn ventilation)
Slim interlock option (automatically locks the door on both sides for extra security)
Dual & triple track options.
Delivering incredible strength, aluminium actually gets stronger the colder it gets. Secure and weatherproof, aluminium also resists corrosion and is designed to last for at least 45 years maintenance-free. Compared to other door materials, aluminium is very light too, allowing for extravagant, ultra-secure glazed installations.
Attractive aluminium patio doors in Nottingham, Derby & Leicester
In the last decade, sliding patio doors have grown in popularity and now lead the market for refined replacement patio doors. Take the stress out of your next home improvement with The Nottingham Window Company, where quality costs less. Book an appointment, visit our showroom or contact us to discuss your options further with one of our double glazing specialists.